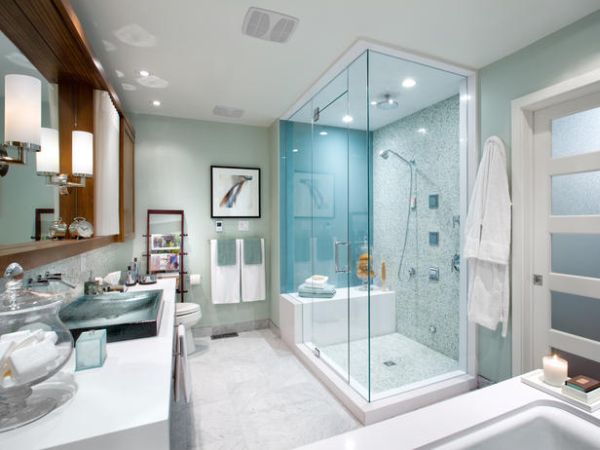 After a long day of work, you would want to kick back and relax both your body and mind. A hot shower might serve this purpose. However, if you are looking for a little more than just relaxation only, a steam shower can give you some added health benefits as well.
The fact that steam showers have top to bottom nozzles allows the water (steam) to reach your entire body, from your head to your back to the front.
It doesn't just involve getting water from above. The way the water hits you is in a way like getting a massage than just a shower.
Additionally, the vapor from the steam fills the shower cubicle and works magic in easing the lungs and soothing the skin.
Below are some of the benefits you get when you use a steam shower.
•    It clears the pores on your skin
As you have your hot shower, you will be able to get the pores under the skin cleared. Steam helps to get rid of the impurities lurking under the skin. Other than cleaning the pores, it makes the pores on the skin look even smaller. This translates into fewer zits and skin that looks fresh.
•    Boosts your blood circulation
When the heat of the steam combines with the massaging action of the warm water from the nozzles, it works magic in boosting blood circulation in your entire body. In turn, your immune system will get a boost and hence make It even more effective in fighting infections in your body. Besides, you will be able to get impurities and toxins off your skin and hence makes you feel even healthier.
•    Eases muscle and joint pain
There is a myriad of reasons you may be suffering from pains in your joints. It could be due to an old spot injury or just resulting from a bad sitting position. Either way, your best remedy could be a steam shower. It is a great way of easing pain and more so if you could just adjust the nozzle to direct water to that point that hurts. A better feeling after the shower is inevitable when you use a properly functioning shower with adjustable nozzles.
Your comfort has to be your number one priority. In achieving your comfort, especially when a part of your body is in pain, a steam shower can be your best bet. Crucial to mention, is that you must always maintain and repair your shower whenever it breaks down.